Hockey season is closing in on us, people, and I for one am extremely happy for this. Sure, the weather's going to get cold and bitter and it will get dark at five in the afternoon, and I'll be shoveling buckets of snow, but at this point in the off-season, I am so ready to see a hockey game on my television set again that I do not
care
.
And I'm sick of the Kovalchuk drama, along with probably about 94% of all other NHL fans. And since the Red Wings are slowing down everything they've done [aside from signing Abdelkader. Come on!], there's not a lot to report on for the Wings.
So let me tell you about my bedroom door. Back in the season after the lockout, I started going through the Detroit Free Press and Detroit News papers for the sports section. For some reason, I really wanted newspaper clippings from the front pages. And since then, my bedroom door has turned into this. [click to make it bigger, of course].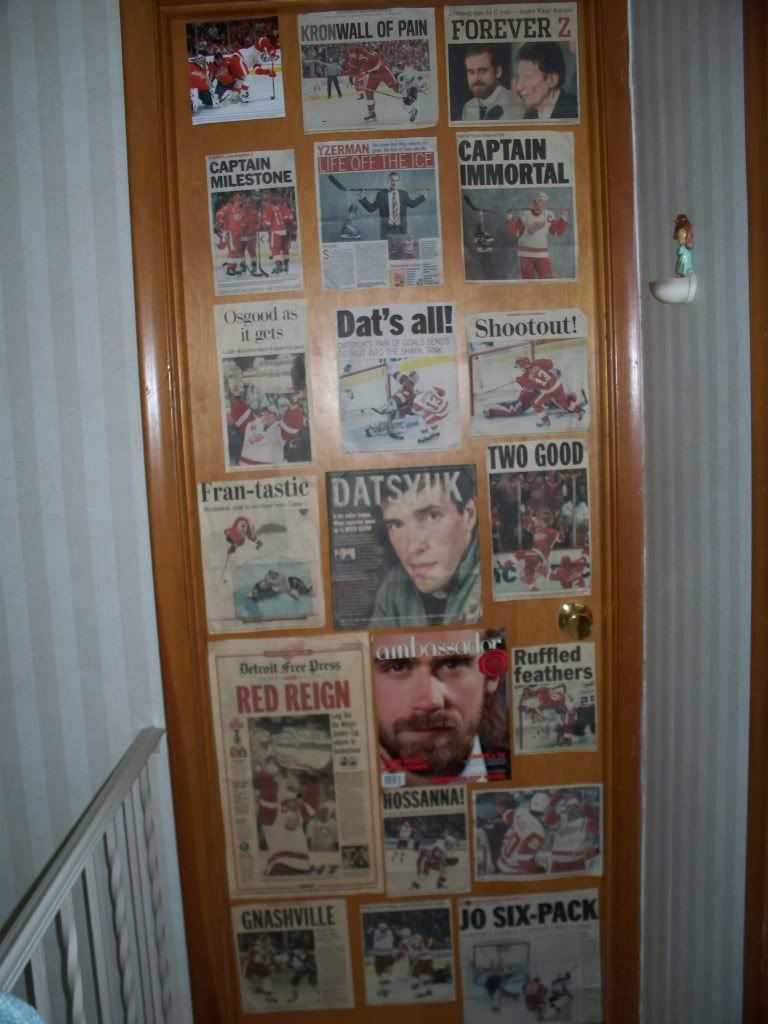 And that's just the front. There has been a lot of rearranging over the years, trust me. It all started with the picture on the right.
From our first shootout [and shootout victory] against Columbus. It shows Datsyuk's awesome skill at shootouts. The one on the left is from Game Seven against Phoenix this past post-season. The similarity between the two pictures is why I hung up the "Dat's All" next to "Shootout." And "Shootout" is the oldest newspaper clipping I have on my door. It used to be in my locker throughout high school.
But let's start at the top of the door.
Ville Leino's first goal. Yeah, I know you're thinking, "WHAT?! LEINO?!" It'll be the first picture to come down for the newest one, don't worry. But you have to admit, his first NHL goal was pretty sweet. And my brothers were at this game in DC!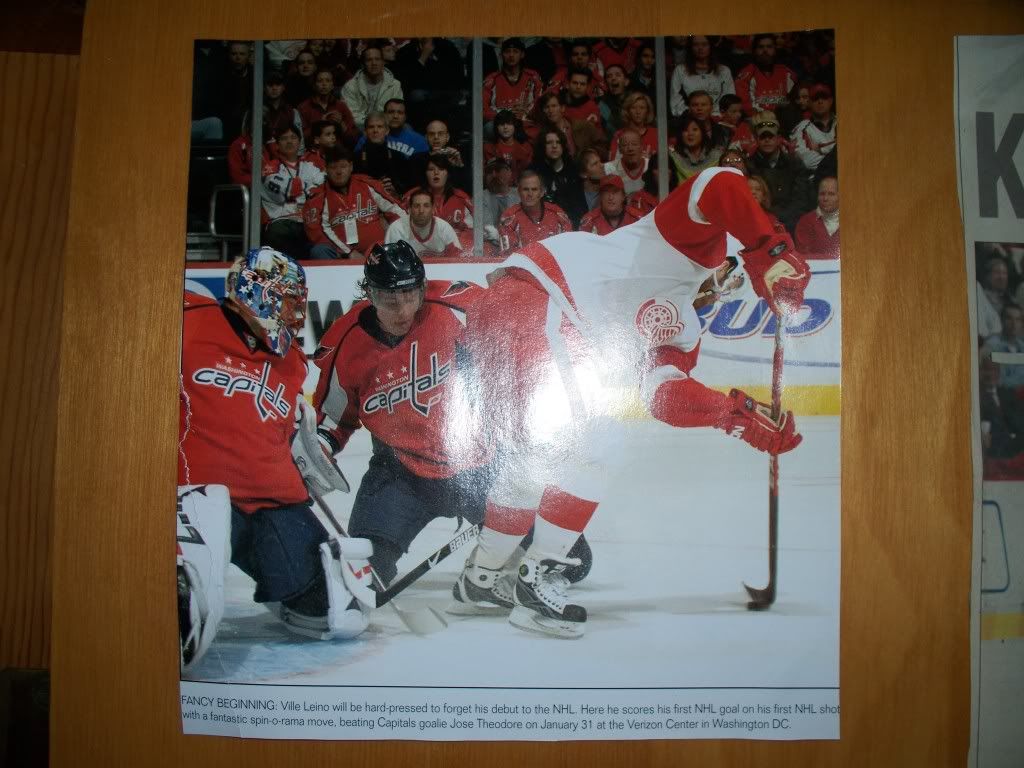 Next comes the reason I call Kronwall "Kronwall of [whatever he just did in the game]", IE: Kronwall of Penalty Kill, Kronwall of Power Play Assist, Kronwall of Check, etc.
Finally, the ZetterCaptain-to-be. When we signed him for twelve years, I knew I needed the newspaper for the next day.
Next row on my front door. This is actually kind of a lame picture to go with the caption, but since it was Lidstrom's 1000th point, I needed it.
"Captain Immortal" was on my door before "Life Off The Ice." I made sure I had "Life" solely for the similarity of the two pictures. And it's Stevie Y. He needs to be on my door.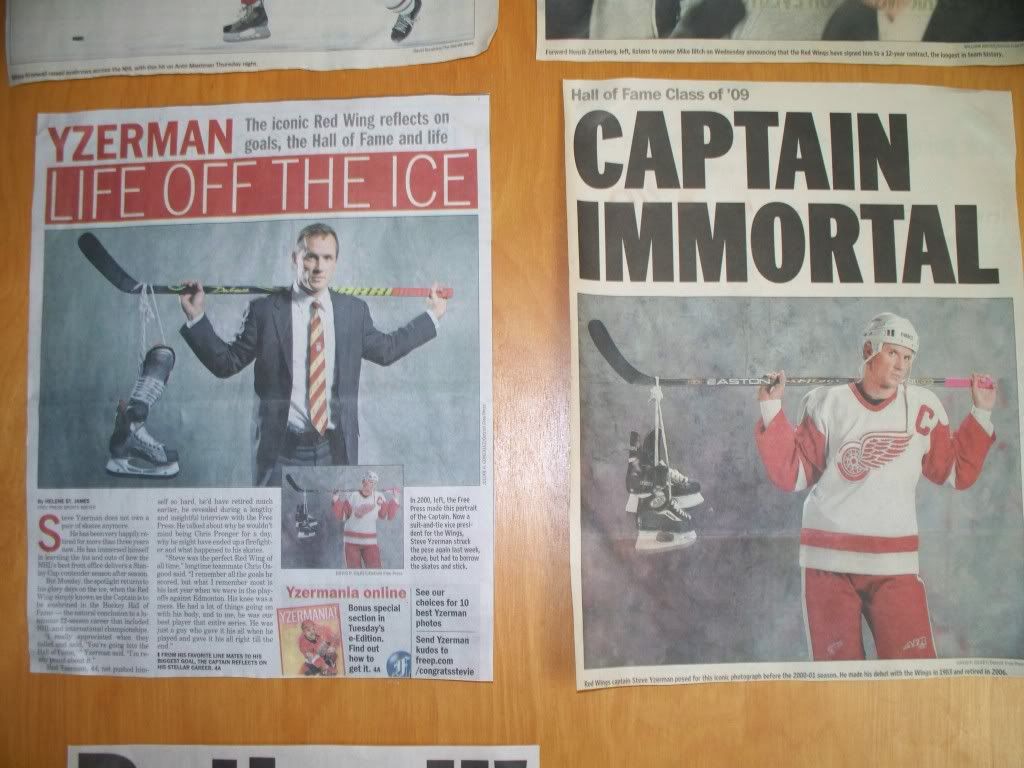 Next row! Chris Osgood, the love of my life. Of
course
he has to be on the front of my door. I don't care how many people say he's not a good goalie; he comes through when we need him the most. I still say that if we had won Game Seven against Pittsburgh, he would have had the Conn Smythe in the bag and BAM. Hall of Fame right there. Don't get me started on Chris Osgood, people, or I'll never stop.
Next to Ozzie is the Datsyukian Dangles.
Next row! Remember his Game Five OT winner against Nashville? That was very Frantastic.
This is from when he did that amazing interview with Mitch Albom. If you haven't read it,
read it now
.
Justin Abdelkader to the rescue in Game Two, anyone?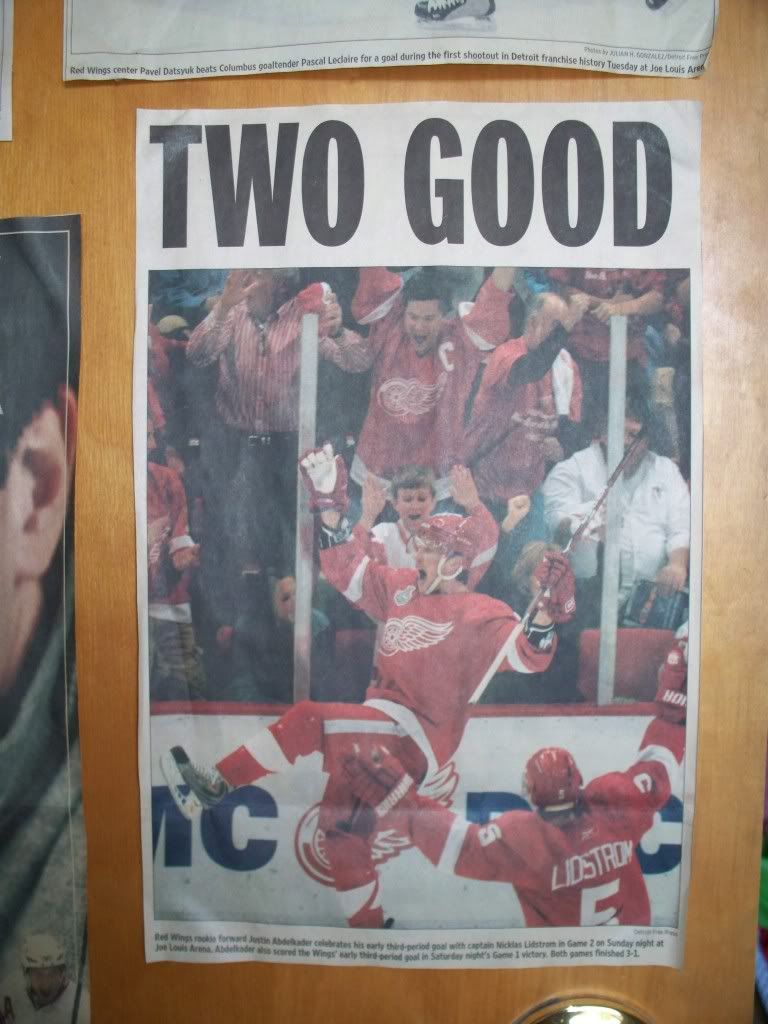 Next row! Naturally, you need the 2008 Detroit Free Press sports page from the Stanley Cup win. This is actually super yellowed because my door is always in the sun. But don't worry - I have a poster of it, so we're okay.
I saw this magazine at Borders about two weeks after the Game Seven loss last year. I debated buying it then and decided against it. The next day, I went and bought it. There was a two page article about how Detroit is still Hockeytown, but other than that, there was nothing of importance in the magazine.
The Mule is on my door the most out of all the Wings players. But that makes sense, since it's The Mule and this is Franzenmuth. Oh, Jonas Hiller... [and you can see a Wings pillow to the side of my door and part of a Wings poster.]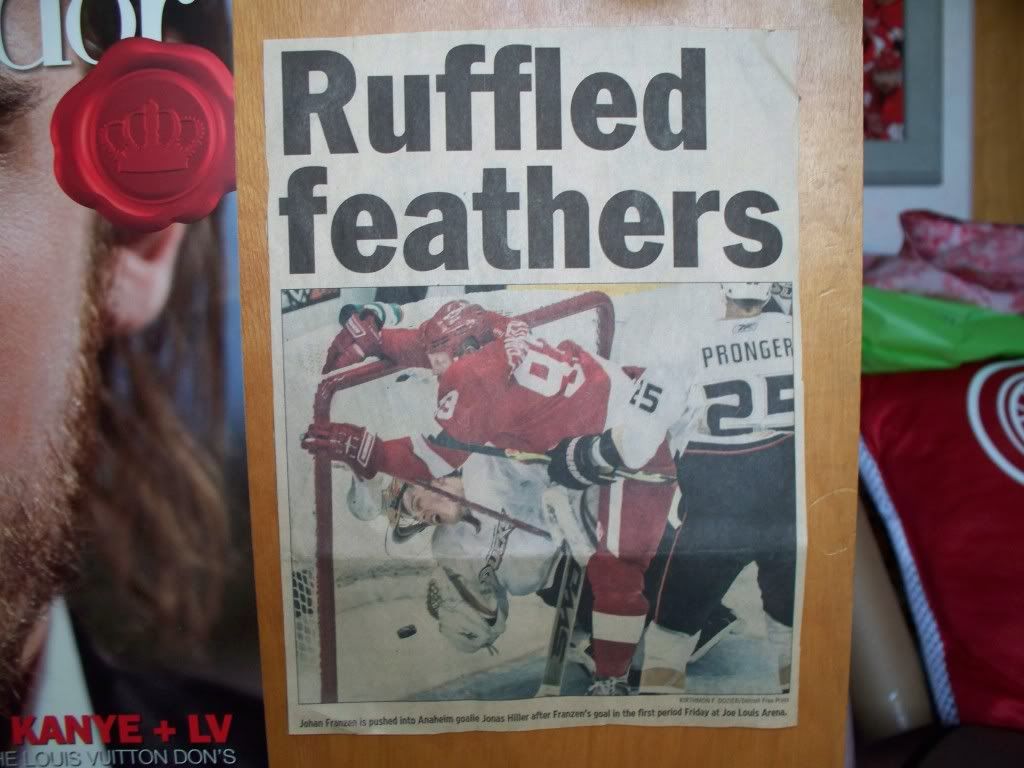 Beneath the giant picture of Henrik's face is Marian Hossa. I know most of you think he's a traitor, blah blah blah, but I still like him. And come on, look at how happy he is in this picture. And the caption is awesome, too.
Happy Abdelkader from round one against Phoenix.
Next row! Another Hossa, another pretty awesome caption. This was a pretty good fight anyway.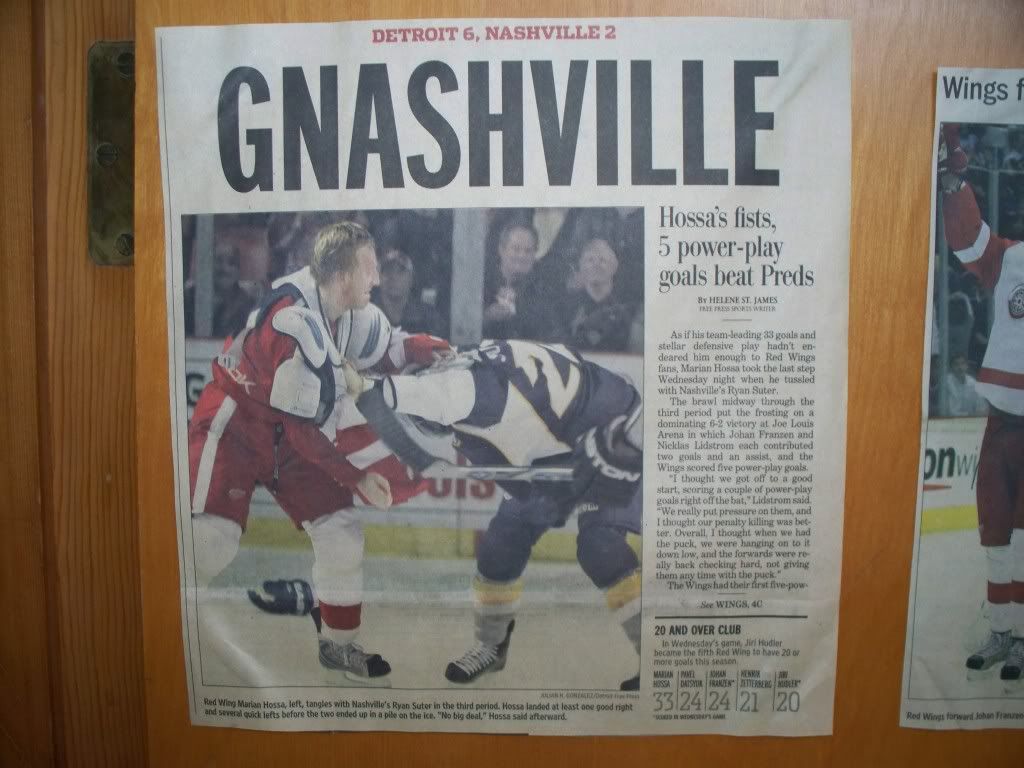 Oh, Mule and his awesome game-winning goals in the postseason. Man, I miss watching him play.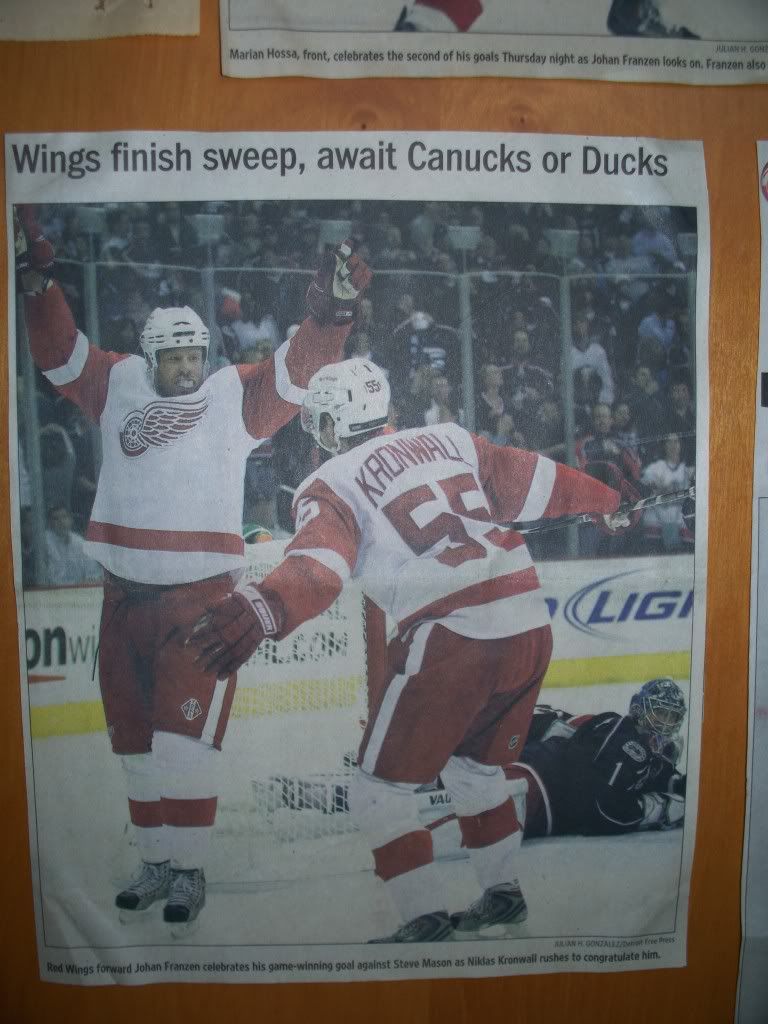 And finally, the Game Four we all loved. Thanks for the FranzenFries. They were Mule-tastic.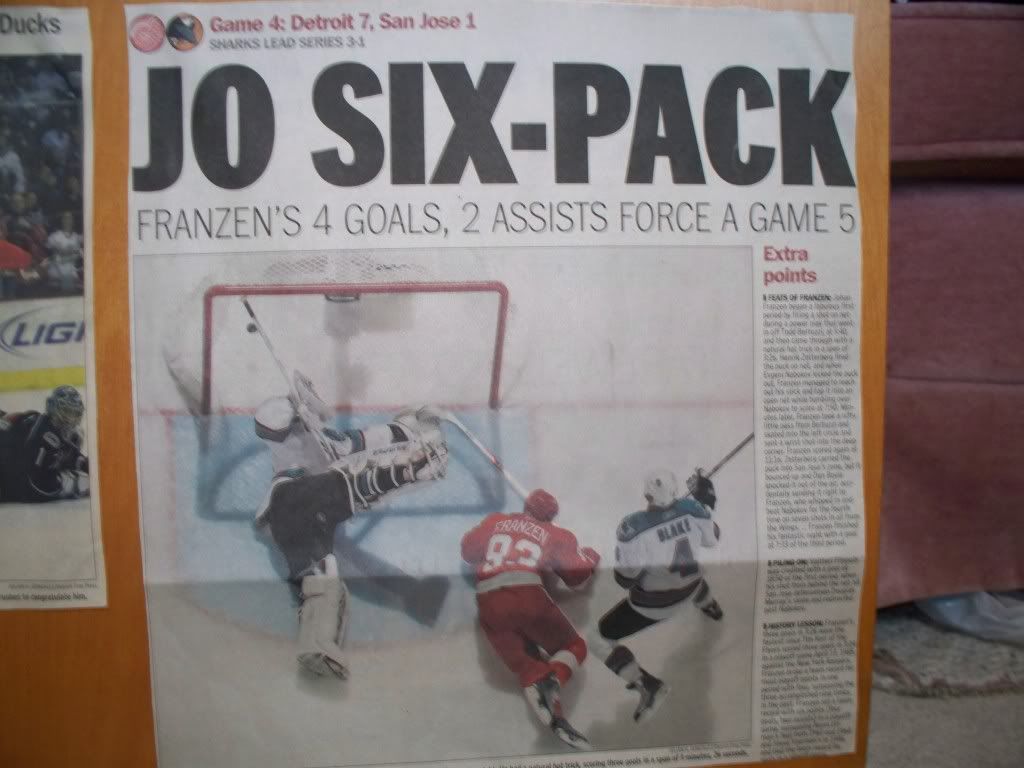 That finishes off the front of the door. I realize how long this post is [length, not overall content/word count], so I'll do the back of the door in a separate post. It's not as epic as the front, but it's still pretty damn sweet.