I swear that I do still draw Red Wings comics. This one takes a little background.
For those of you who haven't checked out "The Comic" over at Livejournal, in its beginning stages before I branched it off into mini-comics, it was centered around a fictional, fangirl-y wedding. Getting around that awkward fact, for the honeymoon, the trip was to Franzenmuth.
Franzenmuth is completely planned out, in case you were wondering. There are rides, restaurants, attractions, etc. One of the restaurants/snack stands is this: [with Val and Ilari standing in front of it]
The friend of mine that got me into loving Filppula back when he first made the team has made Filppula's Fabulous Funnel Cakes into a running joke. We firmly (and jokingly) believe thatVal and Ilari totally make funnel cakes when they aren't playing hockey.
She pointed out this picture to me and said, "They're totally arguing about funnel cakes."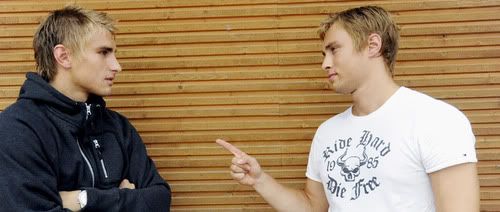 Therefore, it had to be fleshed out and expanded in comic form. [click to make it bigger, naturally.]
And if that wasn't that hilarious, trust me - there's a hilarious Holmstrom-centric one on the horizon.